6FTF-80 Wheat Flour Milling Machine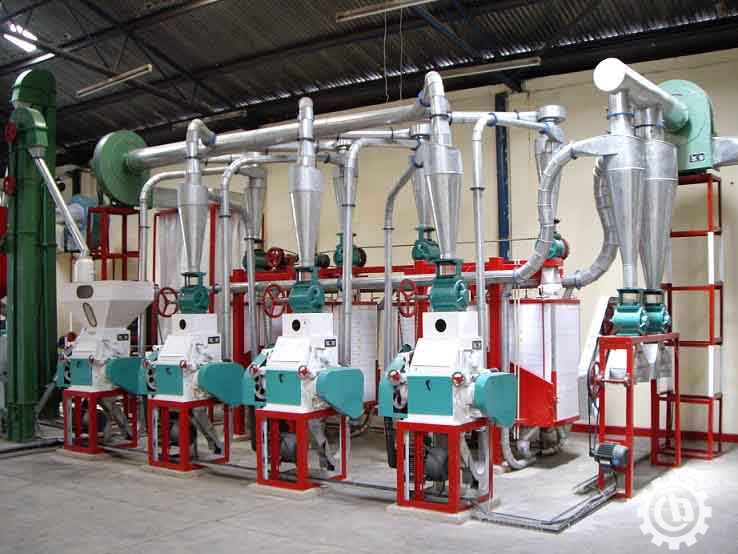 Brief Introduction
Main technology index
capacity: 50tpd wheat
Total power: 238.49KW
Main product: standard wheat flour
Main product yield: 72%
Product quality reaches national standard.
Raw material: medium quality wheat
Dimension of the workshop: 29*8.5*12m
The wheat flour mill machine project is controlled by power distribution cabinet and at local.
Technology Introduction: The wheat flour mill machine project mainly includes 3 sections. 1. Preliminary cleaning includes elevation, sifting. The raw materials reception capability 15tph.
2.Cleaning: three times of sifting and magnetic separation, twice scouring and destoning, once drying and tempering.
3.Wheat flour milling: 4 times bran grinding, 5 times middling grinding, once residue grinding and twice purification.
Production capacity: 80 tons of wheat/24H.
Power supply: About 263.91kw kW.
Used under: Voltage: 380V, Frequency: 50HZ.
Quality guarantee period: One year.
Equipment list
| | | | | | | |
| --- | --- | --- | --- | --- | --- | --- |
| No | Equipment | Model | Unit | QTY | Total power(KW) | Remark |
| 1 | Elevator | DTQ36/18 | set | 1 | 2.2 | 12m/set |
| 2 | Vibrator | TQZ100×150 | set | 1 | 0.5 |   |
| 3 | Low pressure fan | 4-72№3.6A | set | 1 | 3 |   |
| 4 | Elevator | DTQ26/11 | set | 4 | 6 | 12m/set |
| 5 | Vibrator | TQZ80×150 | set | 1 | 0.5 |   |
| 6 | Vertical suction channel | TFDZ80 | set | 1 |   |   |
| 7 | Dry density de-stoner | TQSF80 | set | 2 | 1 |   |
| 8 | Horizontal scourer | FDMW40×100 | set | 2 | 11 |   |
| 9 | Wheat washer | 60x150 | set | 1 | 7 |   |
| 10 | Grain separator | TQLM80 | set | 1 | 0.75 |   |
| 11 | Low pressure fan | 4-72№4.5A | set | 2 | 15 |   |
| 12 | Low pressure fan | 4-72№3.6A | set | 1 | 3 |   |
| 13 | Spiral conveyor | LSS20 | pc | 2 | 3 | 6m/pc |
| 14 | Dust filter pipes |   | set | 3 | 2.25 |   |
| 15 | Motor |   | set | 6 |   |   |
| 16 | Magnetic separator |   | set | 2 |   |   |
| 17 | Pneumatic mill | MSQ 2560 | set | 7 | 121.5 |   |
| 18 | Plan sifter | FSFG6X24 | set | 2 | 11 |   |
| 19 | Purifier | 49×2×3 | set | 1 | 0.36 |   |
| 20 | Low pressure fan | 4-72№3.6A | set | 1 | 3 |   |
| 21 | Pipes for fan |   | set | 1 | 0.75 | |
| 22 | High pressure fan | TY7.7-1.3A | set | 1 | 37 |   |
| 23 | Dust filter | 78B | set | 1 | 4.5 | Including air pump |
| 24 | Accessory |   | set | 1 |   |   |
| 25 | Air lock transmission |   | set | 4 | 6 | With the coupling |
| 26 | Bran centrifugal | 40×100 | set | 1 | 5.5 |   |
| 27 | Bran finisher | 40×100 | set | 1 |   |   |
| 28 | Air lock | 250type | set | 24 |   |   |
| 29 | Centrifugal impactor | 43type | set | 4 | 12 |   |
| 30 | Auger | 16type | set | 2 | 3 | 16 m |
| 31 | Auger | 20type | set | 1 | 1.5 | 8m |
| 32 | Flour automatic scale |   | set | 1 | 2.6 |   |
| 33 | Automatic sealing machine |   | set | 1 |   |   |
| 34 | Flour checking elevator | DTQ26/11 | set | 2 |   | 10.5m |
| 35 | Motor |   | set | 1 |   |   |
| 36 | Decelerator motor |   | set | 9 |   |   |
| 37 | Steel frame |   | set | 1 |   |   |
| 38 | Sliding pipes |   | set | 1 |   |   |
| 39 | Flour magnetic separation |   | set | 2 |   |   |
| 40 | Spare sieve cloth |   | set | 40 |   |   |
| 41 | Air compressor |   | set | 1 |   |   |
| 42 | Air collector |   | set | 1 |   |   |
| 43 | Cooling dryer |   | set | 1 |   |   |
| 44 | oil-water separator |   | set | 1 |   |   |
| 45 | Remove the roller bearing tool |   | set | 1 |   |   |
| 46 | distribution cabinet |   | set | 1 |   |   |
| 47 | Sieve cloth stretcher |   | set | 1 |   |   |