6FTF-100 Wheat Flour Milling Machine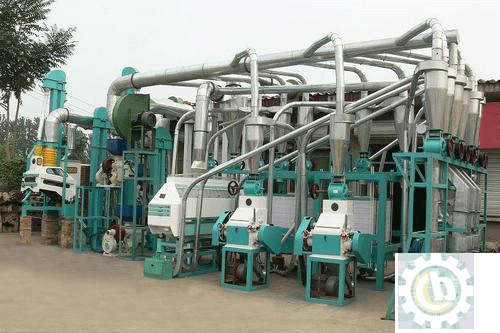 Brief Introduction
1 Production capacity: 100tons /24H.
2 Power supply: 305.5KW
3 Used under: Voltage: 380V, Frequency: 50HZ
4 Quality guarantee period: One year.
5 Staff and worker required flour milling plant: About 5workers.
Wheat transportation (from silos to cleaning workshop): 2 workers. Wheat cleaning section: 1 worker. Wheat milling section: 2 technicians.
Equipment list
1.Pre-cleaning part
1
Bucket Elevator
TDTG26/14
2
4.4
2
High Efficiency Vibration Sieve
TQLZ100*125
1
0.74
 
3
Vertical suction Pipe
TFDZ100
1
 
 
4
High efficiency Scourer
FDMW40*100
1
7.5
 
5
Suction type De-stoner
TQSF100
1
0.74
 
6
Low pressure fan
4-72-5A
1
11
 
7
Wheat washer de-stoner
XMS70
1
9
 
8
Magnetic Separator
TCXT200
2
 
 
9
Wheat damper silo auger
LSS200
1
1.5
 
Total
 
 
30.4
 
2.Cleaning part
1
Bucket Elevator
TDTG26/14
2
6
12MM
2
Plane Rotary sieve
TQLM80
1
2.2
 
3
High efficiency Scourer
FDMW40*100
1
7.5
 
4
Clean Wheat silo auger
LSS.180
1
2.2
(6M)
5
Low pressure fan
4-72-5A
1
5.5
 
6
Magnetic Separator
TCXT200
2
 
 
 
Total
 
 
18.2
 
3.Milling part
1
Mill
FMF2560*2
8
147
 
2
Plan sifter
FSFG6*22
3
20.5
 
3
Purifier
FQFD49*2*3
1
1
 
4
Low pressure fan
4-72-5A
1
4
 
5
Bran scourer
FDMW45*1
1
5.5
 
6
Bran brusher
FDMW400*1
1
4
 
7
Centrifuge Impactor
FSFZ43
5
15
 
8
Flour bucket elevator
TDTC36/14
2
4.4
10MM
9
Flour conveying auger
LSS180
2
3
10M
10
Flour conveying auger
LSS180
1
1.1
6M
11
High pressure fan
TY7.7-1.1
1
45
 
12
Air locker
GFY250
27
0
 
13
Air lock transmission
 
2
4.4
 
14
Packing machine
LCS25
1
2
 
15
Magnetic Separator
TCXT200
2
 
 
 
Total
 
 
256.9
 
4.Auxiliary section
1
Special motors
 
11
 
 
2
Motors
 
 
 
 
3
White iron plate
 
 
 
 
4
Hoisting steel
 
 
 
 
5
Electric control cabinet
 
4
 
 
6
Sieve, cleaning block
 
 
 
 
7
Steel frame
1
8
Auxiliary