6FTF-60 Wheat Flour Milling Machine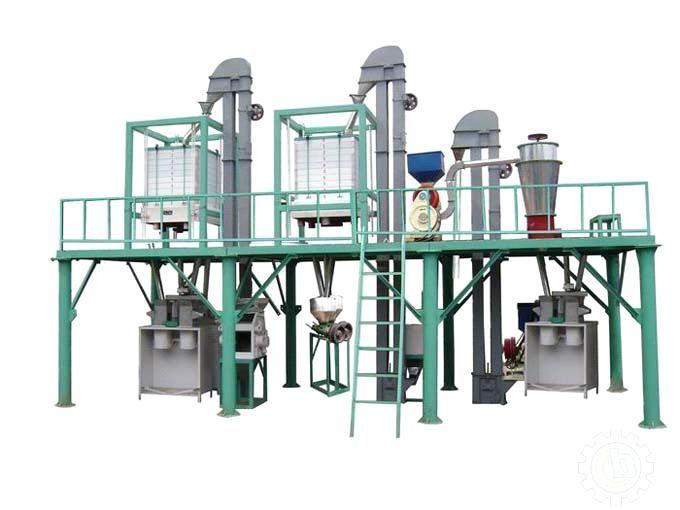 Brief Introduction
Technology in cleaning part: Three screen, two scour, two de-stoners, one damper, and one magnetic separator.
Technology in milling part: Five sets of double roller mill, four sets of Double-section high efficiency square sifter consist of the milling technology of four break, four reduction, one scratch, one bran brusher
Production capacity: 60tons of wheat/24H.
Power supply: About270kW.
Used under: Voltage: 380V, Frequency: 50HZ,.
Workshop style and dimension: Triangle-framed workshop, with 24m long and 7m wide, and 7.2m under the beam.
Quality guarantee period: One year.
Container: 40'×3
Equipment list
No.
Description
Type
Qty.
1.
High efficiency vibrating sieve
TQLZ60
1
2.
Combined cleaning machine
TQDS63
1
3.
Combined cleaning machine
TQLS120
1
4.
Vertical suction channel
TFD60
1
5.
Damper
ZH25×150
1
6.
Horizontal Scourer
DMW40×75
1
7.
Low pressure fan
4-72No.3.2
1
8.
Low pressure fan
4-72No.3.6
1
9.
High pressure fan
6-30No.4.5
1
10.
Vertical Scourer
LDM45
1
11.
Magnetic separator
TCXT12
1
12.
Mid-container
1
13.
Bran aspirator
1
14.
Gravity classification stoner
TQSF60
1
15.
Bucket elevator 1#
DTG20/11(5m)
1
16.
Bucket elevator 2#
DTG20/11(6m)
1
17.
Mill
FMFQ60×2
5-6
18.
High efficiency square sifter
FSFJ2*12*83
4
19.
No.6 Fan
TFD630No.6
1
20.
Flour collecting worm
LSS16 (7.5m)
2
21.
Bran brusher
6SPW35
1
22.
Air seal
LBF12
11
23.
Motor of air seal
Y100L-6
2
24.
Vibrating the feeder
1
25.
Flour receiver
1
26.
Automatic packing machine
DCS-25
1
27.
Central control panel I
DKGF50
1
28.
Central control panel II
DKGQ50
1
29.
pulse dust filter
TBLM-78
1set
30.
cloth dust filter
81 pipes
1set
31.
Purifier
49*2*3
1
32.
Platform & supports
1set
33.
Pipes
1set
34.
Accessories
1set
35.
Cables
1set
36.
Spare parts for one year
1set
37.
Spare roller
6pcs
38.
Total