Garlic Powder Production Line
300Kg/ h Handling Capacity Garlic Powder Processing Line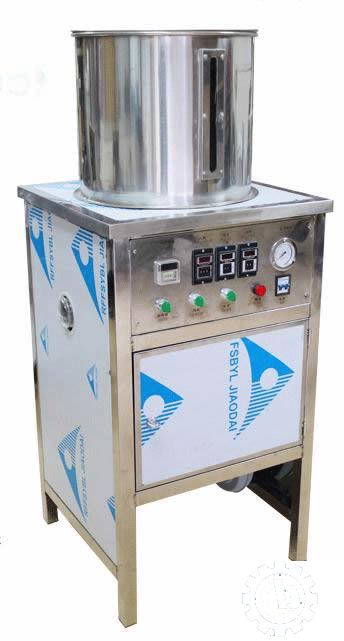 This is a new technology method of producing garlic powder, first use the garlic separating machine to separate bulbs into cloves, then use garlic peeling machine to peeling the skin, these two machines is with air compressor, simulate hands method to separate and peeling. Then slice the cloves into small slice, which will be helpful for drying and grinding .Then drying the slices and then use grinding set to grind them into powder, then into packing.
1. Garlic Separating Machine
Brief Introduction:
This machine uses food-grade silicone , the garlic, squeeze rub the bulk of the split up and down the gap and the centrifugal force of the silica gel plate , garlic stems, garlic, built-in fan while blowing away from the machine, can be recycled ; separated good large garlic cloves rolled out from the machine on the other side .
Main Technical Parameters:
Main frame power: 1.1Kw
Fan powder: 0.375Kw
Dimensions: 1170*570*1270mm
Output: 300-400Kg/h
2. Garlic Peeling Machine
Introduction:
This machine should be equipped with an air compressor. Because of the strong air flow produced by air compressor, the cyclone peels off skin of onions smoothly, with low damage rate. It is suitable for those garlic processing industries.
Technical Parameters
Voltage: 220V/380V
Power: 0.6-3KW
Output: 200-300Kg/h
Weight: 220Kg
Dimension: 1200*800*1600mm(L*W*H)
Air compressor: 7.5KW:2 UNITS/15 KW:1 UNITS
Air pressure: 9-11Kg/cm2
Air flow: 2m3/min
3. Garlic Slicer
1)Introduction of the machine:
The output of the machine is 300Kg per hour. It can be easily controlled, and high production ability. The slicer is evenly thick and smooth. The thick size also can be adjusted.
2)Application of the machine:
The machine can slice ginger, garlic, shallot, potato, taro, yam, bamboo shoots, etc of the solid vegetable and fruit.
3)Parameters of the machine:
Horsepower: 1HP
Capacity: 300KG/hr
Weight: 50KG
Size: 670X360X840mm
4. Garlic Slice Drying Machine Set (Hot Air Circulating Type)
Specification of CT-C-II
1. Type: CT-C-II
2. Capacity: 250kg/h
3. Overall size: 2300mm×2200mm×2000mm(L×W×H);
4. Working room size: 2700mm×2040mm×1500mm(L×W×H);
5. Fan:power: 0.45Kw, 2pcs 380V, 50Hz;
6. Electric heater: 20Kw
7. Baking tray: 640mm×460mm×45mm ,96 pcs;
8. Baking trolley: 940×710×1450 4 pcs;
9. Heat exchanger: aluminum winding carbon steel pipe, 2*40m2;
10. Working temperature: 50-100℃(adjustable)
11. Circulation fan for circulate heating;
12.Control system:heating control, temperature display and setting control, fan working control.
13. Material contact part stainless steel.
5. Garlic Powder Grinding Machine
Brief Introduction:
Water-cooled device universal grinder (hammer grinder) is made of high quality of 304 stainless steel, with national standards motor, are especially for spices, herbs. Fineness of 10 to 120 mesh, according to the nature of the materials,different water content, powder fineness different.
Technical Parameters
Model
output
(kg/h)
size
(mesh)
voltage
(v)
power
(kw)
Spindle speed
dimensions
(mm)
weight (kg)
BWH -250
60-200
10-200
380
5.5
4200
750*600*1260
180
6. Garlic Powder Packing Machine Set
Introduction:
The machine adopts the most advanced micro-computer chip control, with the photoelectric eye tracking and detection,accurate sealing and cutting two packets option fitted coder and folders gas or inflatable device. The machine to adapt to the kinds of powder, such as lotus root starch , sesame paste , soy milk powder , powder automatic packaging materials .
Technical Parameters:
Packing speed: 40-80bags/min
Bag length: 30-180mm
Bag width: 25-145mm(need to replace bag making device and vertical closure mold)
Packing volume:100-500g per bag
Power: 1.2KW
Weight: 300kg
Dimensions: 650*850*1650mm
Packing way: back sealing