6FTF-120 Wheat Flour Milling Machine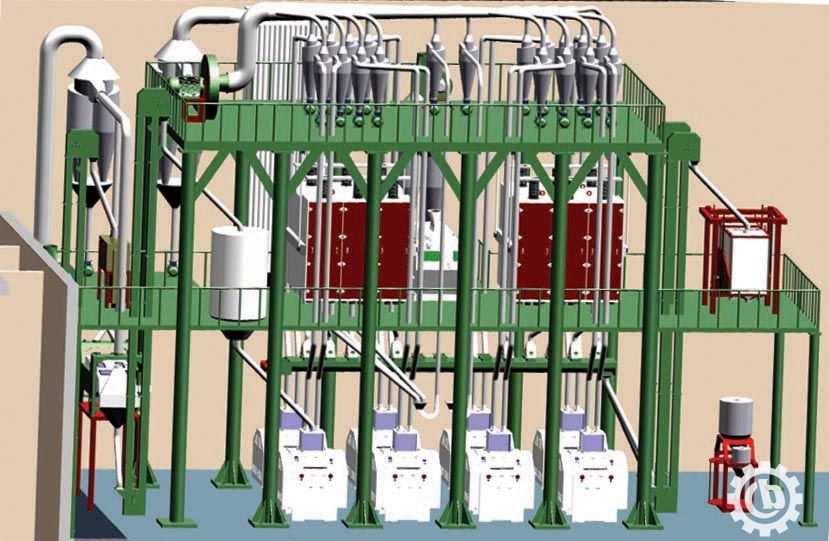 Brief introduction
Technology in cleaning part: Three screen, two scour, two de-stoners, one damper, and two magnetic separator.
Technology in milling part: Ten sets of double roller mill, three high efficiency square plan sifter consist of the milling technology of four break, four reduction, one scratch, one bran brusher
Production capacity: 120tons of wheat/24H.
Power supply: About 427kW.
Used under: Voltage: 380V, Frequency: 50HZ,.
Workshop style and dimension: four floors building (L*W*H=33m* 7.5m*20.5m).
Quality guarantee period: One year.
Equipment list
1 Main equipment in screen room
| | | | | |
| --- | --- | --- | --- | --- |
| NO. | Name | Model | Qty | Unit |
| 1 | Elevator | TDTG48/28 | 1 | PC |
| 2 | Elevator | TDTG36/13 | 4 | PC |
| 3 | Grain separator | TQLM80 | 2 | PC |
| 4 | Horizontal scourer | FDMW32X125 | 2 | PC |
| 5 | Vibrator | TQLZ100X100 | 1 | PC |
| 6 | Dry stoner | TQSF80 | 2 | PC |
| 7 | Intensive damper | FZSH24X160 | 1 | PC |
| 8 | Magnetic separator | CXP30 | 2 | PC |
| 9 | Low pressure fan | 4-72-5# | 2 | PC |
| 10 | Low pressure fan | 4-72-4.5# | 1 | PC |
| 11 | Spiral conveyor | LSS200 | 4 | PC |
| 12 | dust filter of screen room | TBLM78 | 1 | PC |
| 13 | Dust filter pipes | | 3 | SET |
| 14 | Sliding pipes | | 100 | M |
| 15 | Wetting bin pipes | | 6 | SET |
2 Main equipment in purifier room
| | | | | |
| --- | --- | --- | --- | --- |
| NO. | Name | Model | Qty | Unit |
| 1 | Pneumatic mill | FMFQ60X2 | 10 | PC |
| 2 | Plan sifter | FSFG6X24 | 3 | PC |
| 3 | Purifier | FQFD49X2X3 | 2 | PC |
| 4 | Centrifugal impactor | SFZJ43 | 6 | PC |
| 5 | Flour checking plan sifter | FSFJ2X12X83 | 1 | PC |
| 6 | Bran centrifugal | FPDW45X2 | 2 | PC |
| 7 | Bran finisher | FPSW45X2 | 2 | PC |
| 8 | High pressure fan | 6-30-8# | 1 | PC |
| 9 | Low pressure fan | 4-72-5# | 1 | PC |
| 10 | Dust filter | TBLM-78B | 1 | PC |
| 11 | Dust filter | TBLM-52B | 1 | PC |
| 12 | Air lock | GFY250 | 21 | PC |
| 13 | Electric Packer for flour | 25KG/Bag | 2 | PC |
| 14 | Electric packer for bran | DBL240 | 1 | PC |
| 15 | Spiral conveyor | LSS200 | 3 | PC |
| 16 | Pneumatic system | | 1 | SET |
| 17 | Sliding pipes for purifiers | | 1 | SET |
| 18 | Sliding pipes in purifiers room | | 1 | SET |
| 19 | Sieve cloth stretcher | | 1 | PC |
| 20 | Glue | | 1 | PC |
| 21 | Air pressure machine | WO.9/7 | 1 | PC |
| 22 | Air store container | 1 m3 | 1 | PC |
| 23 | Air pressure pipes system | | 1 | SET |
3 Auxiliary equipment
| | | |
| --- | --- | --- |
| No. | Name | Qty |
| 1 | Transmission parts | 1 unit |
| 2 | silk sieve&steel wire sieve | 1 unit |
| 3 | Standardized items: triangle belt,bolts,nuts and so on. | 1 unit |
| 4 | Nonstandard parts:elbow, rubber ball, etc. | 1 unit |
| 5 | Hanger for plansifter | 1 unit |
| 6 | Equipments frame | 1 unit |