Pineapple Slice Processing Machine
Pineapple Slice Processing Equipment with high quality and reasonable price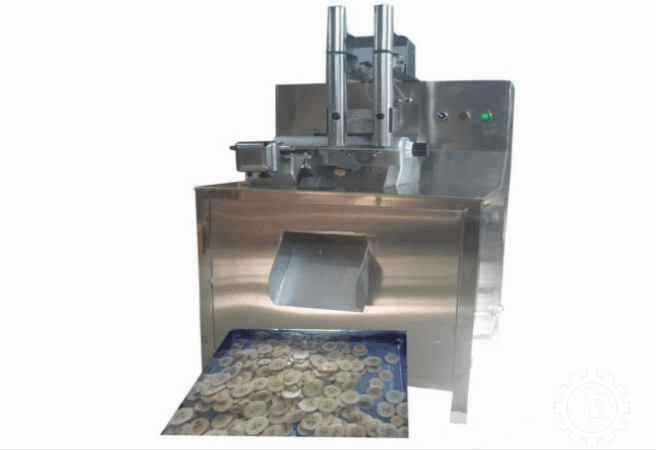 1.Produce Name: Pineapple Slice Processing Machine with high quality and reasonable price

2.Production Capacity: 400-600 pieces/h

3.Project Characteristics: Patent machine to remove skin, eyeholes, save both labor and raw material (compared with artificial method, every tons save cost around RMB230 or so, and compared with the traditional machine to remove skin and eyeholes reducing loss rate more than 30%).
4. Operating Instruction:
A: 80% mature pineapple divide into four grades according to diameter as raw materials.
B: After cutting off the terminal bud, measure the skin thickness and depth of fruit eye .
C: Replace a good knife tongue to meet the thickness of skin and eyehole. On the screen to set up the computer program.
D: Put pineapple in the pole machine, start the machine to cut down the layer of the rind and fruit eye. Then pineapple is shape of cone.
E: By using coring and shaping machine, the cone will be cut into cylindrical.
F: Adjust the knob to slice thickness, the hollow cylinder pineapple cut into slice that was the pineapple wafer products.
G: Collection the cut down fruit eye layer to extract juice. The pineapple terminal bud and the skin broken as feed.
5.Machine composition and parametes
No.
Name
specifications
quantity
1
Automatic pineapple skin and eyeholes removing
Capacity: 500~600 pieces/h
Peel thickness: 2~8mm adjustable
Power: 5KW
Weight: 230Kg
Voltage: 220/380V
Dimensions: 1200×700×1900mm
1
2
Coring and shaping machine
Capacity: 500~600 piece/h
Power: 5KW
Weight: 230Kg
Voltage: 220/380V
Dimensions: 1200×700×1900mm
1
3
Slice machine
Capacity: 8000 slice/h
Slice thickness: 2~8mm adjustable
Power: 0.75KW
Weight: 60Kg
Voltage: 220/380V
Dimensions: 810×560×1160mm
1